In Remembrance of Betty Bullock

Betty Bullock
Date of Death: 08-14-2023
Burial: Ridgely Cemetery
Funeral Service : 08-26-2023
---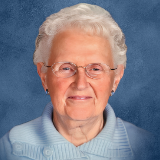 On August 14, 2023, Betty Jean (Norris) Bullock peacefully passed away at Benton House of Staley Hills where she was a resident for the past 22 months. Betty was born to Moody and Alberta Norris on May 26, 1932. They lived in Plattsburg for a while and moved to Smithville where Betty graduated and married the love of her life and high school sweetheart, Robert Bullock. Betty and Robert built their home on the family property in rural Smithville, where they resided until moving into a townhouse closer to town in 2014. Betty was the secretary at Smithville Elementary School for 25 years, retiring in 1988. She loved the children and watched many attend school, graduate, have children of their own and then watched their children graduate.
Betty loved music, as did all six of the Norris girls. The Norris Sisters sang at many different places in St. Joseph, Kansas City and a few surrounding states. She was active in the Smithville United Methodist Church where she played the organ for Sunday service, funerals and weddings. Her love for flowers and plants was very obvious at their house in rural Smithville. She enjoyed cooking and baking (she made the world's best chocolate pie and macaroni and cheese). She was also an expert seamstress making many of the clothes that her three children wore.
Betty was preceded in death by her parents, her husband Robert and her five sisters, Maxine, Dorene, Faye, JoAnn and Louise, a niece and a nephew.
She is survived by her three children, Ron (Karen) Bullock of Kennesaw, Georgia, Rick (Denise) Bullock of Leawood, Kansas and Connie Jo Butler of Gladstone, MO; six grandchildren, Megan (Josh), Matthew, Brian, Emma (Jared), Rachel (Henry) and Bradley (Clara); eight great grandchildren, Lucas, Olivia, Bronson, Flynn, Louis, Watson and the most recent twins, Maebry and Quincy; four nephews and three nieces. 
Funeral Services: 2:00 p.m. Saturday, August 26th at Hixson-Klein Funeral Home, Smithville with visitation one hour prior to the service.
Burial: Ridgely Cemetery

In lieu of flowers, donations may be made to the Smithville Education Foundation for the Betty Bullock Lunch Fund. Make checks payable to Smithville Education Foundation.
Tweet
Share
Link
Plus
Pin
---