In Remembrance of Cecelia E. "Sissy" Chesnut

Cecelia E. "Sissy" Chesnut
Date of Death: 09-08-2023
Burial: Davis Chapel Cemetery
Funeral Service : 09-11-2023
---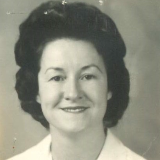 Cecelia E. "Sissy" (Gardner) Chesnut, 96, of Dearborn, MO went to her heavenly home on September 8, 2023, at the Gower Convalescent Center.
She was born to Elmer and Mary Gardner on August 14, 1927. She graduated from DeKalb High School in May of 1946.
On August 30, 1946, she was united in marriage to John W. Chesnut. Afterwards, they lived near Dearborn where they made their home. The marriage produced two sons, Tom and Bernard. John passed away on November 10, 2000. 
Sissy was a member of the United Methodist Church of Dearborn. Her career was in the medical field, where she was an assistant to Dr. David Meyers (GYN) Office for many years in Smithville, MO.
She was also preceded in death by her parents, all of her siblings and many nieces and nephews.
Sissy is survived by her sons and their wives, Tom and Regina Chesnut of Dearborn and Bernard and Debbie Chesnut of Edgerton, MO; four grandchildren Todd and Melissa Chesnut, Tim Chesnut, Crystal and Fred Theis and Christina and Derek Holmes; seven great-grandchildren John, McKenzie, Chase, Chance, Beau, Lainey and Hadley; several nieces, nephews, other relatives and many friends. 
Graveside Service at 10:30 p.m. Monday, September 11th at Davis Chapel Cemetery, Dearborn, MO.
Donations may be made to the Dearborn Christian Church.

Tweet
Share
Link
Plus
Pin
---