In Remembrance of Dearle Wamsley

Dearle Wamsley
Date of Death: 08-26-2023
Burial: Leavenworth National Cemetery
Funeral Service : 09-01-2023
---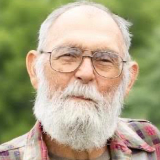 Dearle James Wamsley, 75, passed away peacefully at home on August 26, 2023 in Smithville, Missouri surrounded by his family.  
Dearle was born during a blizzard in January 1948, at the home of the local doctor. He was the son of Eunice and Daniel Wamsley, and grew up on a farm in Whiting, Kansas, learning the importance of hard work and the love of family. Dearle graduated High School in 1966 and then joined the United States Air Force. A small-town man at heart, he was thrust out to explore more of the world during his time stationed at Hickam Air Force base in Hawaii and Yokota Air Force Base in Japan. Upon his honorable discharge from the military, he returned home to Nebraska and married his high school sweetheart, Charlene. 
After the family moved to Kansas City, he completed his education as an aircraft mechanic and excelled in his field. Dearle enjoyed a long career with Trans World Airlines where he worked from 1974 until his retirement. He was a mechanic to his core, whether it be car or plane engines. His skills carried over from his profession, and he went above and beyond in every task to ensure they were completed with such quality they would pass any inspection. This profession ignited the true passion he had for flying - a passion that continued through to the end of his life.
He passed along these interests to his children, starting with them bringing him tools to holding the flashlight from the time they were toddlers and could barely walk. During their teenage years, you were most likely to find them sitting in an engine compartment or lying on their backs under a car with their heads next to their dad's. They have continued to share his love of cars, being able to fix most any problem and restoring classic Chargers and MOPARs for their own enjoyment.
He was never interested in taking the quickest route from one point to another, always finding the most scenic back roads, coasting over the hills, looking out for wildlife, and the next story to tell when he finally arrived at his destination.
Dearle never met a stranger and would strike up conversations wherever he went. He always wanted to know more about the people he met, and they recognized the pure kindness of his spirit and the genuine interest he had in their lives.
In retirement, he was able to spend even more time with his family and grandchildren. He enjoyed talking to his many friends in Smithville and Nebraska, discussing cars, farming, collecting various one of a kind items, and occasionally sharing stories over a few cuss words and a cold Busch beer. He was a passionate gardener, which allowed him to spend time tending to his family's land and appreciate the beauty that nature provided. His love for the outdoors brought out his gentle free spirit, but he was the happiest in the company of his family and friends. 
Nothing brought more joy to his face and sparkle to his eyes than the pride he felt for his children and grandchildren. He would never take credit for the qualities they portrayed, giving credit for their intelligence and good grades to Charlene, their accomplishments to his children, and not realizing much of the gentleness and honesty they demonstrated were a reflection of himself.
During our time of grief, it has brought us some comfort watching Dearle continuing to experience the things he loved the most. He was able to spend quality time at Roosterville Airport and taking evening flights with his grandson who has developed his love of flying. And just a couple of weeks before he passed, Dearle was able to attend a tractor show with his family and demonstrate the knowledge and interest he had in tractors and old steam engines. Despite being in poor condition, he never wore out or became fatigued while pointing out features and continuing to share his interests. 
Dearle's lasting legacy will always be his profound desire to help and love everyone he met. 
Graveside Military Honors will be Friday, September 1st at 11:00 a.m. at Leavenworth National Cemetery, 150 Muncie Rd, Leavenworth, KS 66048.
In lieu of flowers, donations can be made payable to Charlene Wamsley at Central Bank of Midwest.

Tweet
Share
Link
Plus
Pin
---