In Remembrance of Jane Woods (the Church will require EVERYONE to wear a mask)

Jane Woods (the Church will require EVERYONE to wear a mask)
Date of Death: 07-21-2021
Burial: Community of Smithville Memorial Cemetery
Funeral Service : 07-28-2021
---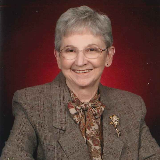 Due to the church's restrictions,  Masks will be REQUIRED for EVERYONE.  Please wear your mask at all times in the building.    
Jane Davison Woods, 94, of Smithville, MO passed away July 21, 2021.
She was born on June 19, 1927, to Hubert Felix and Ruby Gladys (Potter) Davison in Niangua, MO. Jane graduated from Blue Springs High School and received her RN from St. Johns Hospital in Springfield, MO. After graduation, she moved to Smithville, MO where she worked as an RN for Spelman Hospital and met James Woods. 
On March 19, 1950, she was united in marriage to James Fowler Woods. After their marriage they farmed, ranched and raised their children near Smithville, MO. In 1980 they moved near Braymer where they continued farming and ranching and in 1998, they returned to Smithville where they made their home. James passed away on August 22, 2002.
Jane was a member of the First Christian Church of Smithville. She enjoyed antiquing with friends, music, gardening, fishing, and was an avid reader. 
She was preceded in death by her husband James Woods; her parents Hubert and Ruby Davison; her brothers Billy Davison and J H Davison; and daughter-in-law Jackie Woods. 
Jane is survived by her children John D. Woods and wife Susan Tripp, Jean Ann Green and husband Dennis and Jeff D. Woods and wife Pam; grandchildren Tiffany (John) Chaney, Cara (Steve) Rainsbarger and Levi (Kristine) Green; step-grandchildren Sebastian McLeod and Rachel (Mike) McLeod; great-grandchildren Kasey, Alex, Isaac, Ashlynn, Evelynn; step-great-grandchildren Taylor, Cameron, Claudia, Carla and Leo; great-great-grandson Zane; other relatives and many friends. 
 Memorial Service: 2:00 pm Wednesday, July 28th at the First Christian Church of Smithville
Inurnment: Community of Smithville Memorial Cemetery
Donations may be made to the Church or KC Hospice.
Arrangements by Hixson-Klein Funeral Home, Smithville
Tweet
Share
Link
Plus
Pin
---