In Remembrance of Joyce Gandy

Joyce Gandy
Date of Death: 08-25-2023
Funeral Service : 08-29-2023
---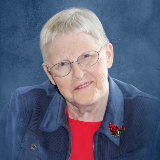 On August 25, 2023, Joyce Lynne (Morgan) Gandy passed away peacefully at her home in Gower, MO surrounded by her family. 
Joyce was born to Alfred Leroy and Frances Irene (Hibler) Morgan on September 13, 1942, in Independence, MO. She grew up in Kansas City, MO where she graduated from East High School. In 1961, she met the love of her life, Dale Gandy, and they united in marriage later that year on September 1st. Dale and Joyce built their first home in Trimble, MO, where they resided until later moving to a farm outside of Gower, MO that would become their forever home. 

The light of Joyce's life were her children and grandchildren. Her happiest times were caring for her grandchildren when they were young, often taking them on outings to the Mid-Continent Public Library in Edgerton, MO. A major fulfillment in her life was making sure others always had something to bring them happiness. For approximately thirty years, she found joy in delivering books and visiting with residents in various care facilities in surrounding areas as well as making sure every resident had a wrapped gift to open during the Christmas season. Joyce found the good in everyone and it was not uncommon to be called "Sweetie" in her presence. She was a wonderful wife, mother, grandmother, aunt, and friend who will be missed dearly. There was no kinder or more genuine soul than Joyce on this planet and she will be irreplaceable to all those who knew and loved her. 
She was preceded in death by her husband Dale Gandy; parents Alfred Leroy and Frances Irene Morgan; brother Wilson "Bud" Morgan; and favorite dog Harley. 
Joyce is survived by her sons, Jeff Gandy and wife Annie Wu and Jarrett Gandy and wife Heidi; grandchildren Collin Gandy and wife Camelia, Gabrielle Gandy, Amberlee Gandy, and Ruby Wu; beloved nieces, nephews; bonus family, the Herpel's;  other relatives and many friends. 
Visitation 1:00-2:00 p.m. with Funeral Services at 2:00 p.m. Tuesday, August 29th at First Baptist Church, Gower,  MO.
Inurnment will be held at a later date. 
Donations may be made to the Allen Cemetery.
Arrangements by Hixson-Klein Funeral Home, Gower
Tweet
Share
Link
Plus
Pin
---