In Remembrance of Linda Livingston

Linda Livingston
Date of Death: 08-23-2023
Burial: Greenlawn Cemetery
Funeral Service : 08-27-2023
---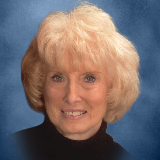 Linda Lou Livingston passed away peacefully on August 23, 2023, at the age of 82 surrounded by her family. She was born on May 27, 1941, in Holt, MO. Her greatest joy was her family. She is best known as "Granny". She opened her home and her heart to everyone she met and loved hosting holiday parties especially her fall parties. She was loving, giving, strong and full of grace.
Linda graduated from Plattsburg High School in 1959 where she first met her husband Bill Livingston while riding the school bus. They would marry years later on September 17, 1985. 
 Linda began her career working for TWA but worked in the healthcare field most of her career including for Dr. Leslie and St. Luke's. She attended college in St. Joseph, MO. She loved to travel, garden, cook, scrapbook and boat. She loved animals and rescued many. Since she was an only child she especially loved her horse Patsy. She was faith filled and was a parishioner of the Church of the Annunciation, Kearney, MO.
Linda leaves behind her husband Bill Livingston, daughters Stephanie Wolters (Jared Wolters) of Kearney, MO and Shanie Colston (Steve Colston) of Birmingham, MO along with her grandchildren Steven Colston (Ashlie Colston), Misty Hudson (Tim Hudson), Brooke Clack (Kameron Clack), Spencer Wolters and Ella Wolters as well as 7 great grandchildren (Lucas, Haidyn, Brantley, Anna, Hadley, Hendrix and Thea). She is preceded in death by her grandson Jack Wolters and her parents William and Orena Wilson.
Services will be held on Sunday August 27, 2023, at the Church of the Annunciation, Kearney, MO. Visitation is at 1:00 PM followed by Funeral at 2:00 pm. Graveside service will be at Greenlawn Cemetery in Plattsburg, MO. 
A few words to live by from Granny are "Live every day like it is your last. Be happy. Laugh a lot. Love a lot. Try to be the very best you can. My thought is when you are gone you will not be remembered for what you were going to do but what you DID!!!!!" She will be dearly missed.
Tweet
Share
Link
Plus
Pin
---