In Remembrance of Maxine McFadden

Maxine McFadden
Date of Death: 08-30-2021
Burial: Allen Cemetery
Funeral Service : 09-03-2021
---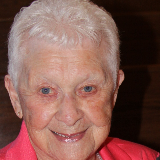 Maxine McFadden, 101, of St. Joseph, MO passed away, August 30, 2021.
She was born on November 18, 1919 to Robert William and Mattie Loie (Matthews) Taylor in Gower, MO. Maxine grew up in Gower and graduated from Gower High School.
On February 24, 1939 she was united in marriage to Clifford L. McFadden, Sr. After their marriage they lived in Gower where they raised their children and later moved to St. Joseph. They owned and operated Standard Oil Company in Gower and Plattsburg for many years. Her husband, Clifford, passed away on December 13, 2005.
She was a member of Word of Life Church in St. Joseph. After her retirement she loved to volunteer at the Gower Convalescent Center.
She was also preceded in death by her parents, and her brother, Bill Taylor.
She is survived by her sons, Clifford L. (Donna) McFadden, Jr. and James Robert (Linda) McFadden; six grandchildren, Tammy (Mark) Scott, Kip (Terry) McFadden, Myke (Amber) McFadden, Julie (Phillip) Risalvato, Taylor McFadden and Kirk (Sarah) McFadden; great-grandchildren, Tyler (Jackie) Scott, Aaron (Shelbi) Scott, Lee (Laura) McFadden, Blake McFadden (Alex), Eli McFadden, Micah McFadden, Brady Risalvato, Patrick Risalvato, P.J. Risalvato and Vinnie Risalvato, Demetria McFadden, Angelique McFadden and Chris McFadden; great-great-grandchildren, Heath Scott, Maxwell Scott, Stella Maxine Scott, Simon Scott, Chase McFadden, and Liam McFadden; brother Ben Taylor; other relatives and many friends.
Graveside Service: 10:30 a.m. Friday, September 3rd at Allen Cemetery, Gower, MO.
Visitation: 6:00-8:00 p.m. Thursday at the funeral home.
Donations may be made to Word of Life Church.
Arrangements by Hixson-Klein Funeral Home, Gower.

Tweet
Share
Link
Plus
Pin
---