Charles "Charlie" Connett
Date of Death: 02-27-2023
Interred: Leavenworth National Cemetery
Funeral Service : 03-09-2023
---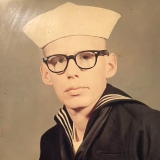 Charles Squire Connett
April 3, 1943 – February 27, 2023
Charles Squire Connett, 79, of St Joseph, MO passed away February 27, 2023.     
Charles (Charlie) Connett was the son of Edgar Leonard Connett and Edna (Lewis) Connett, both now deceased. He grew up on the family farm 7 miles south of St. Joseph and 3 miles north of Faucett. He had two older brothers: Franklin Gilmore (b. 1933), now deceased, and John Connett (b. 1941), Professor Emeritus at the University of Minnesota in the Twin Cities. Charlie attended Sparta School, a one-room school south of St. Joseph, for six years. When Sparta was closed in 1955, Charlie went to Buchanan County RV Consolidated School in Faucett, graduating from high school in 1961. Charlie then attended Missouri Western, then the University of Missouri, ultimately earning a bachelor's degree from UM's highly regarded School of Journalism in Columbia.
Charlie joined the U.S. Navy and served for 4 years in the 1960s. He served on the aircraft carriers USS Essex, Yorktown, and Randolph. His tour in the Navy included port calls to ports in France, Canary Islands, Italy, Greece and other European sites, Brazil, Boston, Providence, Norfolk, and the Great Lakes station in Chicago. He worked primarily in communications, attaining the rank of Petty Officer.
After his service in the Navy, Charlie had several jobs that included newspaper reporting in Amarillo, Kingman (Arizona), Kansas City, and Cedar Rapids. He also worked as a filing clerk for a law firm in Kansas City. He worked for 17 years at the Walmart store on the north Belt. For several years he served as a volunteer for Second Harvest Heartland, assembling food packages to needy families in St. Joseph; also for Meals on Wheels and Backpack Buddies. He was named in a St. Joseph Citizens Award for his charitable work. 
Beginning in about 2015, Charlie had a series of illnesses, an ankle replacement operation, and a cardiac operation, which caused him to retire from Walmart. In 2020, he took up residence at Country Squire, a retirement community on the east side of St. Joseph, and made several friendships there.
Charlie was outgoing and gregarious, and had many friends from high school, from Second Harvest Heartland, from other residents at Country Squire, and among people he knew at the Farris truck stop in Faucett. An especially close and very helpful friend was his first cousin, Richard Williams, of Lake Waukomis north of Kansas City. 
Charlie experienced a steep decline in strength and health in the fall of 2022, and in January of 2023 moved to Carriage Square, a nursing and rehab facility not far from Country Squire. He was recently diagnosed with an unfortunate case of severe pneumonia, which led to his death at Mosaic Hospital in St. Joseph.
Charlie's passions in life included 1960s rock music, politics, comics in the newspaper, and pork tenderloin sandwiches. He will be remembered and sadly missed by family and co-workers and friends who came to know him. A memorial fund in his honor will be established with Second Harvest Heartland in St. Joseph.
Graveside Service with Military Honors 2:30 pm Thursday March 9 at Leavenworth National Cemetery Arrangements by Hixson-Klein Funeral Home, Gower

---