Elmo Batman
Date of Death: 06-24-2023
Funeral Service : 10-07-2023
---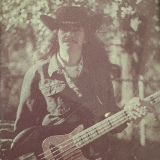 Elmo Eugene Batman, 79, of Kansas City, MO passed away June 24, 2023.
He was born on February 27, 1944, to Ralph Ermin and Martha Frances (Brown) Batman in Great Bend, KS where he grew up and attended school. Elmo served a short stent with the National Guard. 
He played music his entire life from the age of 13. In 1969, Elmo moved to Kansas City, MO and continued his music career in the area playing with several different groups. Elmo also played with several different county music stars including Freddie Fender, Grandpa Jones, and String Bean. 
He was preceded in death by his parents Ralph and Martha Batman; his sisters LaWanda Mae Farrell and Frieda Ilene Orr and brother Ralph Eldon Batman.
Elmo is survived by his brother Charles Lynn Batman; close friend Glenda "the Farmer" and childhood and life long best friend whom he played music with his entire life, Fred Juergensen; nieces, nephews, and many other friends. 
Celebration of Life will be held Saturday, October 7th from 12:00-6:00 p.m. at the Smithville American Legion with live music and lots of celebration. Smithville American Legion, 2607 Rt 92 Hwy, Smithville, MO 64089.

---