Genevieve Clark
Date of Death: 10-31-2021
Interred: Hampton Cemetery
Funeral Service : 11-05-2021
---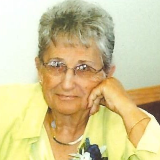 M. Genevieve Clark, 96, of Kansas City, MO passed away, October 31, 2021.
She was born on July 17, 1925 in Muscogee, Oklahoma. Genevieve grew up in Platte County and graduated from Platte City High School.
On July 4, 1942 she was united in marriage to Norman Clark. After their marriage they lived in Platte County and made their home in Northern Heights. Her husband, Norman, passed away, June 24, 2009.
Genevieve retired from Firestone Tire and Rubber Company. Genevieve and Norman were members of the Holiday Ramblers RV Club. She loved to crochet, knit, listen to music, and play solitaire. Genevieve crocheted a tablecloth for all her great-granddaughters.
She was also preceded in death by her parents, Henry and Lorena James, and her granddaughter, Lori Simmons.
Genevieve is survived by her children, Norma (John) Ledford; grandson, Dan (Paula) Ledford; four great-granddaughters, Cari (Justin) Klein, Sara (Tyler) Drennan, Amie Ledford, and Kayla (Colin) Vaughan; four great-great-grandchildren, Taylor, Tristin, Declyn, and Josie; sister, Teri York; other relatives and many friends.
Funeral Service: 1:00 p.m. Friday, November 5th at Hixson-Klein Funeral Home, Smithville.
Visitation: 6:00-8:00 p.m. Thursday at the funeral home.
Burial: Hampton Cemetery, Kansas City, MO.

---