Jane West
Date of Death: 04-24-2021
Funeral Service : 04-28-2021
---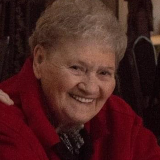 Jane West, 84 of Smithville, MO passed away April 24, 2021.
She was born on March 2, 1937 to William Marvin and Dollie Mae (Walker) Moore in Kearney, MO. Jane attended school in Kearney, Smithville and in 1955 she graduated from Stanley High School in Stanley, KS.
In 1956 she married Frank Bruce of Smithville and they had two children. On August 22, 1981 she married Jerry Dean West. After their marriage they lived in Trimble and made their home in Smithville.
Jane was a member of the Smithville American Legion Auxiliary and a member of the Trimble Baptist Church. She was active in PTA, being a room mother, Girl Scouts and was a lifetime member of the Smithville Warriors Basketball Booster Club. Jane was also a Council Member of the City of Trimble. 
She retired as a cook from the Smithville School District and was known as the "Best lunch lady ever". She also worked at Spelman Memorial Hospital and the Dairy Y. Jane was known for her cinnamon rolls and pies and received several ribbons. She loved playing cards and bingo. Jane was very active in her children, grandchildren and great-grandchildren lives and "everything".
Jane was preceded in death by her parents Bill and Dollie Moore; brothers Pete Moore, Bo Moore, Kenny Moore and Joseph Moore; sister Emma Frances Blankenship, Maurine Moberly, Ethel Marie Lee, Sarah Jo Headrick, Dorothy Hickman, Bessie Bruce, Jean Turnipseed and Erma Nell Herring.
She is survived by her husband Jerry West; children Barbara Lamb and husband Al and Keith Bruce and wife Jude; grandchildren Calen (Heather) Lamb, Allison Lamb, Kellie (Terry) Scoggins, Justin Lamb, Dennis Oberfoell, Nick Oberfoell and Elyse Oberfoell; great-grandchildren Rylee, Gunnar, Lacey, Eli, MaKenna, Brynlee, Tre, and Karson; sister Alice Crooks and husband Harold; numerous other nieces, nephews, other relatives and many friends. 
The family would like to thank her nieces Nancy Barber and Charlene Bruce and KC Hospice for the wonderful care.
Visitation 1:00-2:00 pm with Funeral Service at 2:00 pm Wednesday April 28th at Hixson-Klein Funeral Home, Smithville.
Donations may be made to Smithville American Legion Auxiliary.
---