Nina Ecton
Date of Death: 08-22-2021
Funeral Service : 08-22-2021
---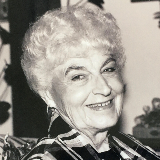 Nina Maye Ecton, 87 of St. Joseph, MO passed away August 22, 2021.
She was born on December 18, 1933, to Ralph E. and Elda P. (Davis) Sanner in Morrill, Kansas. Nina graduated from Hamlin High School in Hamlin, KS in 1951 and from Missouri Methodist Hospital Nursing Program in St. Joseph, MO in 1955. On January 25, 1959, she was united in marriage to Ralph "Dobber" Ecton in Morrill, Kansas. After their marriage they lived in St. Joseph, MO. Nina worked for Missouri Methodist Hospital for years as well as other hospitals in Minnesota and Missouri. In 1979 they retired and moved to Lost Lake in northern Minnesota. In 1992 they moved to Faucett, MO and later they returned to St. Joseph, MO. Ralph passed away on January 6, 1996. 
 Nina was also preceded in death by her parents Ralph and Elda Sanner; her brother Russell Sanner and his wife Rachel Sanner; and her sister Marjorie Bowen and her husband Charles Bowen. 
 Nina is survived by several nieces and nephews, other relatives and many friends. 
 There will be no scheduled services. Inurnment will be at Kerns Freeman Cemetery in Easton, MO.
Arrangements by Hixson-Klein Funeral Home, Gower.

---