Sidney Johnson
Date of Death: 02-24-2023
Interred: Allen Cemetery
Funeral Service : 03-03-2023
---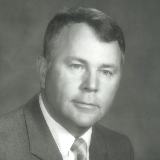 Sidney B. Johnson, 80, passed away on February 24, 2023 in St. Joseph, Missouri, with his wife by his side. As a life-long Christian who believed in Jesus Christ as his Lord and Savior, he now lives at peace in the glory of our God.
Sidney was born August 19, 1942 in Sedalia, Missouri, to Sid and Katherine Johnson. At the age of 2, the family moved to St. Joseph, Missouri and then settled in Agency, Missouri near Frazier, where they built generations of life, livestock, crops and memories. After graduation from Faucett High School, Sidney attended the University of Missouri and graduated with a degree in agriculture economics. After graduating, he started a career in farming with his father, and later both of his sons.
Sidney served the public in multiple elected positions including Buchanan County Presiding Commissioner, Missouri State Senator and Buchanan County Collector. In the Missouri State Senate he served as Assistant Majority Leader and chaired seven committees. He was proud of the bipartisan legislation accomplished during his 12-year tenure in the Senate. He continued to be active with the Missouri Tourism Commission and presided as President of the Missouri Association of Counties. He received an honorary Doctorate of Education from Missouri Western for his work as vice-chair of the education committee. Sidney served on the University of Missouri Agriculture Foundation, Buchanan County Tourism Commission, University of Missouri Extension Council, Buchanan County and Missouri Farm Bureau, and Frazier Baptist Church delegate to the St. Joseph Baptist Association, where he served as treasurer for several years. He was a life-long active member of Frazier Baptist Church. 
Sidney was preceded in death by his mother and father, Sid and Katherine Johnson, two brothers-in-law, Elmer Clark and Tom Trail, both of Gower. 
He is survived by his wife, Jean Turner Johnson, and four children, Beery Johnson, Rick (Kristy) Johnson, Lindsey (Tim) Minson, and Jennifer (Dave) von Fintel. He has 12 grandchildren including Lauren, Sid, Alex (Chester), Connor (Cody), Ryan, Cazes (Hannah), Zac (Jessica), Garrett (Devon), Grant, Flynn, Kai and Ellis. He has five great grandchildren; Ivory, Archie, Kingston, Calloway and Ruby. He is also survived by siblings Nancy Clark, Martha Trail, Jim (Connie) Johnson, Kathy (Bill) Rhoad, and Barbara Johnson along with numerous nieces and nephews.
Visitation: 5:00-8:00 p.m. Thursday, March 2nd at Frazier Baptist Church, Frazier, MO.
Funeral Services: 10:30 a.m. Friday, March 3rd at Frazier Baptist Church, Frazier, MO
Burial: Allen Cemetery, Gower, MO.
In lieu of flowers, the family would encourage giving to Second Harvest Community Food Bank or the Frazier Baptist Church building fund.

---