In Remembrance of Russell and Shirley Denham

Russell and Shirley Denham
Date of Death: 02-24-2016
Burial: Ridgely Cemetery
---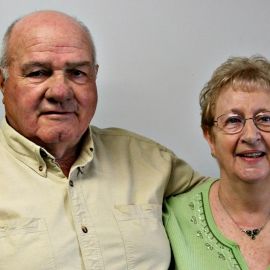 Russell and Shirley Denham, passed away, Friday, February 19, 2016.
Russell was born on February 8, 1934 in Gentry County, MO to Carlos Theodore and Elva Bernis. (Wilson) Denham. He grew up in Gentry County where he attended school, and served his country in the U.S. Air Force.
Shirley was born on April 15, 1934 to Albert George and Ena Winifred (Kingham) Grimsey in the United Kingdom. She grew up and attended school west of London, in the small town of Maidenhead.
Russell and Shirley met in England while Russell was serving as a General's Aide in the Air Force. On February 23, 1957 they were united in marriage. Russell and Shirley traveled around the United States and to several countries overseas during their 20 year military service. Russell served during the Korean War and the Vietnam War. In 1971, after his retirement, they moved to Edgerton, MO where they made their home. Shirley worked at the bank in Edgerton for over 20 years.
Russell and Shirley were active members of the Mt. Zion Baptist Church. He was a coordinator of the church's missionary building projects. Shirley truly enjoyed raising her two sons, and her favorite pastime was reading. They enjoyed traveling and meeting new people.
Their granddaughter, Heather, and great-grandson, Mason, passed away.
They are survived by their sons, Ray Denham and wife Daniela, Geneva, Switzerland and Gary Denham, Smithville, MO; grandson, Grayden Denham; two great-grandchildren, Bentley and Aleia; Russell's brother, Herbert Denham and wife Dee; ten nieces and nephews, other relatives and many friends.
Funeral Service: 11:00 a.m. Saturday, March 5th at Mt. Zion Baptist Church in the Community Life Center in Edgerton, MO.
Visitation: 6:30-9:00 p.m. Friday March 4th at the church.
Inurnment: Ridgely Cemetery.
Donations may be made to Master's Builders. Please make checks payable to Mt. Zion Baptist Church.
Arrangements, Hixson-Klein Funeral Home, Edgerton.
Tweet
Share
Link
Plus
Pin
---