In Remembrance of Tina Reichart

Tina Reichart
Date of Death: 02-11-2023
Funeral Service : 02-18-2023
---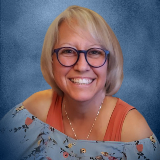 Tina Marie Reichart, 55, of Smithville, MO formerly of Estherville, IA, passed away peacefully at home surrounded by family on February 11, 2023.
She was born on August 16, 1967, to Jerry William and Rose Ann (Wheaton) Wallace in Mattoon, IL. Tina graduated from Estherville High School in Estherville, Iowa. She received her bachelors degree from Buena Vista University in Storm Lake, Iowa. 
On October 17, 2006, she was united in marriage to her best friend and soulmate, Brian Reichart. They lived in Estherville, IA until moving to Smithville, MO in 2014. 
Tina and Brian owned and operated Goodtimes Bar and Grill and Simply Unique Gift Store in Estherville, IA until moving to Smithville, MO. She was currently employed with Social Security Administration in Kansas City, MO.
She was a member of Vineyard Church in Kansas City where she volunteered as an AWANA Cubbies Director. Tina was a past member at Grandview Baptist Church in Estherville, IA where she was the AWANA Commander. She was a living example of her faith by "Clinging tightly to the Lord our God" (Joshua 23:8) and loved sharing His word with the AWANA's ministry and her family.
Tina enjoyed crocheting, gardening, family vacations and DIY projects. Most of all, Tina loved spending time with her family, especially her grandchildren and her pup Penelope Sue.
She was preceded in death by her parents Jerry Wallace and Rose Maynard; her grandparents including her grandmother Mildred French and her brother-in-law John Halstead. 
Tina is survived by her husband Brian Reichart: her children Bryon (Amber) Swalve and Stephanie (Joe) Johnson; grandchildren Jackson, Brigston, and Delaney; her siblings Jerry (Stella) Wallace, Tammy (Ted) Gould, Janet Jergens, Donna (Kent Larson) Halstead and Bobbie Maine; father and mother-in-law BJ and Judy Snyder; sisters-in-law Debbie (Jerry Sylvester) Snyder and Linda (Doug) Davis; numerous nieces, nephews, other relatives and many friends. 
 Visitation will be held from 1:00-3:00 p.m. with Memorial Services at 3:00 p.m. Saturday, February 18th at Hixson-Klein Funeral Home, 104 W Church Street, Smithville, MO. 
In lieu of flowers, donations may be made in Tina's Memory c/o Brian Reichart or to Vineyard Church for the AWANA's program.

Tweet
Share
Link
Plus
Pin
---