In Remembrance of Virginia Donley

Virginia Donley
Date of Death: 07-08-2021
Funeral Service : 07-08-2021
---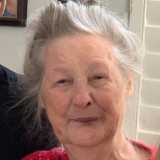 Virginia Mae Donley went home to her Lord while surrounded by family at the home of her daughter and son-in-law, Tammy and Jamie Noll, of Trimble, MO.
She was born as Virginia Mae Gibson on July 10, 1926 in Mt. Victory, Ohio and lived there until she and her husband, Frank, moved to Pompano Beach, FL in 1957.She is survived by her sister, Wilma Mullennax, many nieces and nephews, her twin sons, Tim and Tom Ward and there wives, Janny and Barb, Charles Donley, Frank (Pete) Donley and daughters, Roxann Klemkowski and Tammy Noll and their husbands, Gary and Jamie, eleven grandchildren, nine great grandchildren and one great-great grandson. She was preceded in death by her parents, four brothers, two sisters, her husband, Frank Donley, her son, Jim Donley, her grandson, John Ward, and her granddaughter, Courtney Noll.
Virginia was an avid artist and also enjoyed making beautiful porcelain dolls. She was a high-ranking competitor in trap and skeet shooting, raised Paint horses and was a member of the Parkland Volunteer Fire Department in Parkland, Florida.
She also founded the Parkland Horsemen's Association.
She will always be remembered for her kindness, her beautiful smile and being the best mother and grandmother that we could have ever asked for. We were all blessed to have had her in our lives and she will surely be missed. Godspeed Mom/Granny!
Our family would like to thank Interim Hospice, especially, Cindy Jones, Ashley Walker and Aiden Lovelace for the care and compassion that they showed for our mother and our family. They are very special people.
Private Family Services will be held.

Tweet
Share
Link
Plus
Pin
---