In Remembrance of Walter Morris

Walter Morris
Date of Death: 01-11-2023
Burial: Allen Cemetery
Funeral Service : 05-13-2023
---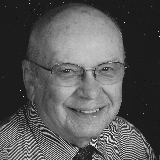 Walter Huffman Morris, 98, died January 11, surrounded by his children at his home near Parkville, Mo following a brief illness. 
Walt was born September 27, 1924 in Kansas City, Mo to Walter Herman and Lyda Jane Morris. He began school there but the family soon moved to southwest Missouri where they lived throughout the depression. He attended school in several towns, eventually settling in Springfield where he graduated from Central High School. He went on to Draughons Business College. Walt soon joined the WWII Navy. He was a proud veteran who served over two years in the South Pacific as a signalman second class.  
In 1947 Walt married Laura Dee Stotler, a partnership that would last 65 years. They had two children, Steve and Connie. 
He worked as a district credit manager for Hotpoint & General Electric appliance divisions from 1956 until retirement in 1984. They moved to Lake of the Ozarks but after four years returned to the Parkville, Mo area to be closer to both of their mothers. Walt traded his fishing hobby for woodworking. For several years he supplied a local bird center with bird houses and feeders. Following his wife's death, Walt decided to downsize his living arrangements. He moved to the Riverstone Retirement Community where he lived for several years. Never having met a stranger Walt made many new friends. He enjoyed their poker games, bowling tournaments, and companionship. 
 Walt was a member of the Parkhill Christian Church beginning in 1956. That remained an important part of his life. 
Walt was preceded in death by his parents, and older sister Burnetta, one granddaughter Paige Morris, and many beloved members of his extended family. 
He is survived by his son Steve (Joan)of Fulton, Mo; his daughter Connie Hey (Gary) of Kansas City; four grandsons Chad Hey (Leah), Chris Hey (Tara), Tyler Hey, Sam Morris (Karen); one granddaughter Claire (Bob Breedlove); and six great grandchildren Tucker Hey, Kiernan Hey, Carter Hey, Hudson Hey, Breelynn Hey, and Kendall Morris, and great granddaughter Amelia Eden. 
Our family wishes to thank St Luke's Hospice staff for their kindness and excellent care. 
The Hixson-Klein Funeral Home in Gower, Mo has been entrusted with the final arrangements. 
 A graveside service will be held 2:00 p.m. Saturday, May 13th at the Allen Cemetery in Gower, MO.

In lieu of flowers, the family suggests planting a tree in memory of Walter, Dee and Bebe.
Tweet
Share
Link
Plus
Pin
---